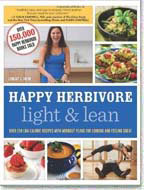 With easy, no-fuss recipes, the bestselling Happy Herbivore cookbooks show how easy, affordable, and delicious eating healthy can be. Now, in her latest cookbook, Happy Herbivore chef Lindsay S. Nixon provides recipes that put a special emphasis on weight-loss and a set of exercises that, like her recipes, are quick, easy, and produce great results.Like all Happy Herbivore cookbooks,
Happy Herbivore Light & Lean
contains filling, flavorful, plant-based recipes that take 30 minutes or less to prepare. But this time, Nixon takes healthy to an all-new level, with low-calorie, satisfying meals that will help you achieve your weight-loss goals—and without deprivation.
True to its title, Happy Herbivore Light & Lean also includes "recipes" for your body with basic workouts, plus tips and tricks that will inspire you to move more for a trimmer, more-toned you. As always, Happy Herbivore Light & Lean recipes are free from oils, processed foods, and diet chemicals such as artificial sweeteners. Happy Herbivore Light & Lean keeps it healthy, keeps it simple, and keeps it delicious.
Lindsay Nixon hit another one out of the ball park with this book, just as she did the other three. I am astonished that she continues to come up with new and amazing recipes that are such a hit! It was fantastic to get this book before Thanksgiving as I was able to put it into use and get great reviews! I made the ruby chocolate muffins, which 5 year old Bella pronounced "Better than Delicious. They're Great-licious!" The Lentil Joes are also amazing.
Putting a delicious serving in a 100 calorie sandwich round gives an amazing, satisfying 231 calorie lunch! How great is that? And the Skinny Puttanesca? One of the most delicious meals I've ever tasted. I'm looking forward to trying every recipe in this book and I'm sure I will continue to love the results.
Author: Lindsay S. Nixon
Year of Release: 2013