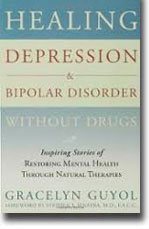 When Gracelyn Guyol was diagnosed in 1993 with a mild form of bipolar disorder, also known as manic depression, she was prescribed a commonly used antidepressant. Soon she developed breast cysts and benign tumors, a possible side effect of the antidepressant. She went off the drug and within two months, her tumors disappeared.
Under the care of a naturopath, Guyol embarked on a quest to educate herself about the underlying genetic, hormonal, and other causes of depression and bipolar disorder. She investigated many natural therapies–including diet, vitamins, herbal treatments, and energy healing–before finding the solutions that have kept her free of depression and bipolar symptoms since 2002.
Guyol was determined to be free of psychiatric medication that caused dangerous side effects; that was the catalyst for this guide to the most effective natural remedies for depression and bipolar disorder. Highly detailed sections on frequently overlooked contributors to mental illness relate how many factors—low blood sugar; thyroid disease; allergies; vitamin, mineral and hormonal imbalances; Candida albicans; parasites; excess caffeine and sugar consumption; and environmental toxins—can cause or exacerbate mental illnesses and such conditions as autism, ADHD and autoimmune diseases.
Guyol describes now common alternatives (yoga, meditation, reiki, affirmation, homeopathy) as well as those unfamiliar to many mainstream physicians (glyconutrient supplementation, Nambudripad Allergy Elimination treatments, Mahikari no Waza). The focus is not only on treatment but on recovery.
In moving real-life stories, readers will meet people whose illnesses left them incapable of basic functioning yet they continued their search for healing, discovering alternative and mainstream healthcare providers with whom they partnered. While no single treatment cured them, a combination of helpful supports restored their mental, emotional and physical capacities. Guyol's respectful presentation of their tenacity in the face of great obstacles is, perhaps, the main strength of this effort.
Healing Depression & Bipolar Disorder Without Drugs: Inspiring Stories of Restoring Mental Health Through Natural Therapies features Gracelyn Guyol's own story and those of thirteen other people around the country who have cured their depression and bipolar disorder using only natural therapies. In-depth research and the expertise of alternative health-care professionals are included in this landmark guide for patients and caregivers seeking responsible, safe alternatives to psychiatric drugs.
Author: Gracelyn Guyol
Year of Release: 2006