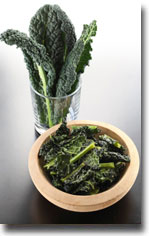 These are a low calorie nutritious snack. Like potato chips, you cannot stop at just eating one. They are great for parties and a good conversation topic. If you've ever been brave enough to make your own kale chips at home, you know how easy they are to make.
Serves 6, 55 calories per serving.
1 bunch Kale
1 Tbsp Olive oil or Coconut Oil
Salt
Pepper
Chili Flakes
Instructions
Wash and dry kale leaves well (some people actually use a blow dryer!).
Cut out center stem from each leaf and discard.
Tear into pieces and put in a bowl.
Toss with seasonings and olive or coconut oil then spread on a greased baking sheet.
Bake at 350°F for 7 minutes, remove from oven and toss.
Then continue baking for 10 minutes or until leaves are crisp.