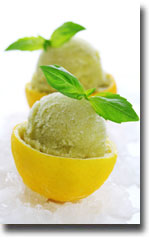 The health benefits of lemon include treatment of throat infections, indigestion, constipation, dental problems, and fever, internal bleeding, rheumatism, burns, obesity, respiratory disorders, cholera and high blood pressure. And Basil's faint licorice flavor is nothing short of fabulous in this tart lemon sorbet.

Serves 4, 320 calories per serving.
Ingredients:
8 lemons, peeled and sectioned
1/2 teas Stevia
1/3 cup fresh basil
Directions:
Slightly thaw the frozen fruit so that it easily blends.
Add all ingredients to a high speed/high quality blender like a Vitamix.
Blend until smooth but do not overblend. Keep mixture as thick and frosty as possible.
Pour into a chilled metal container.
Chill until firm, then serve.