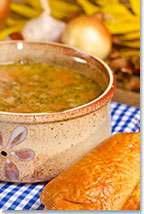 I love everything about this hearty lentil chili. First and foremost, it is just so easy to make. Ten minutes of prep and then you just dump everything into the slow cooker and let it do its thing. Between all the tomatoes, onions, garlic, peppers, and spices – you get a really amazing meatless chili that will keep you full for hours. Top it with scallions, chives, or fresh pineapple.
Ingredients
1 onion, diced
3 cloves garlic, minced
1 jalapeno, seeded and diced
1 red pepper, chopped
1 green pepper, chopped
1 carrot, peeled and diced
2 cups vegetable broth
30 oz. canned tomato sauce (no sugar added)
30 oz. canned fire roasted diced tomatoes
1 lb. dry lentils, rinsed
20 oz. canned kidney beans, rinsed and drained
3 tbsp. chili powder
1 tbsp. cumin
2 tsp. smoked paprika
1 tsp. oregano
pepper to taste
Braggs Aminos to taste
Directions
Add everything to the slow cooker and stir. Cook on low for 6 hours or until lentils are tender.