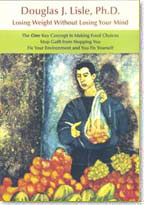 In this two-part lecture series, Doug Lisle explains how to achieve weight loss success. Drawn from his work with thousands of patients, Lisle unveils the surprising – and inspiring – truth about how to reach your goals.
Whether your goal is to lose weight or some other personal achievement, the ideas in this video can be an invaluable aid in helping you get what you really want. These three main themes are addressed:
The One Key Concept in Making Food Choices
Stop Guilt from Stopping You, and
Fix Your Environment and You Fix Yourself
Douglas J. Lisle, Ph.D. received the President's Fellowship and was a Dupont Scholar at the University of Virginia where he completed his Ph.D. in Clinical Psychology. He was appointed Lecturer in Psychology at Stanford University and served as a consultant to the National Institutes of Health.
Lisle is currently the psychologist for The McDougall Wellness Program and is the Director of Research for the TrueNorth Health Center. Lisle lectures nationally on topics including evolutionary psychology, cognitive therapy, lifestyle modification, and weight loss. He has a private practice in Tiburon, California.
Director: John McDougall
Release Date: 2007