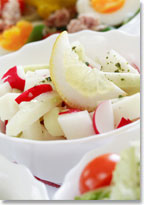 Large amounts of alcohol and/or drugs take a toll on the liver. Alcohol is known for causing a variety of liver diseases and chronic drug abuse can damage the liver. Because of this anyone who has a history of substance abuse should consider adopting low fat diet, beginning with eliminating the trans fats associated with fried and fast foods.
Swedish researchers decided to find out what would happen if 18 lean, healthy men and women (mostly medical students) ate only fast food for a month. The students were asked to eat at least two daily meals at fast food restaurants and adopt a sedentary lifestyle.
Their diet featured hamburgers and fried foods high in saturated animal fat. Before-and-after measurements showed a dramatic increase in the students' weight, waist, fat, and liver enzymes. On average, the students gained 14 pounds, added 2.6 inches to their waistline, and increased their body fat percentage by 3.7% during the study.
Blood samples taken from the students throughout the study indicated a spike in levels of the liver enzyme alanine aminotransferase (ALT). ALT levels rose quickly (typically within a week) after the  onset of the fast food diet.
High ALT levels are a marker of fatty liver disease (FLD). FLD often occurs in those with excessive alcohol intake and those who are obese. An increase in the fat content of liver cells is linked with insulin resistance and metabolic syndrome, both of which are associated with diabetes and cardiovascular disease.
This research doesn't mean that all fast food is dangerous. Some fast food chains have made a point of having healthier food choices, such as salad and other foods that are not fried in trans fats. Additionally, foods  high in trans fats are used in upscale restaurants and at home as well.