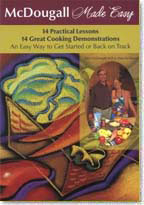 McDougall Made Easy presents 14 Practical Lessons from John and Mary Dougall. The McDougall Program diet is based around "comfort foods"-favorites like pastas, potatoes, beans and vegetables that help you experience tremendous weight loss without ever being hungry. As thousands of people have already proven, you'll be able to say goodbye to most, if not all, medications and live without fear of surgery.
John McDougall answers your most important health questions:
Where do I get protein and calcium?
Can dairy products really be that harmful?
Is soy a health food or a poison?
Should I drink beer or wine?
Is there a non-drug cure for depression?
Is tea a better choice than coffee?
Is there a connection between aluminum and Alzheimer's Disease?
In 14 cooking demonstrations Mary McDougall shows you how to make these delicious recipes and more : Breakfast: Fantastic Overnight Oatmeal, Your Kids Will Love These Pancakes, and Fabulous French Toast Lunch: Sandwiches with Eggless Salad and Mexi Soup Dinner: Confetti Riche, Mashed Potatoes with Gravy, Bean Burritos and Tofu Tacos Dessert: Peach Cobbler So start you daily dose of McDougall today, and see just how fun and easy great health can be.
Director: John McDougall
Release Date: 2007