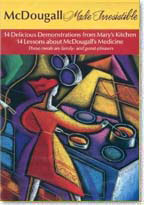 John McDougall is a board-certified internist, author of 11 national best-selling books, and medical director of the 10-day, live-in McDougall Program in Santa Rosa, California. Mary McDougall is a nurse, educator, and co-author of 9 national best-selling books. She directs all food-oriented activities at the program and has created over 2500 recipes. This book contains:
14 Delicious Demonstrations from Mary's Kitchen
14 Lessons about McDougall's Medicine
Mary McDougall presents 14 food demos showing how to make her favorite recipes guaranteed to please all family members and dinner guests. In order to do this, Mary artistically introduced some higher-fat plant foods and simple sugars into the basic McDougall Diet to create healthy meals with a touch of elegance. Includes these delicious recipes:
Breakfast: No Huevos Rancheros, Veggie Benedicts and Pumpkin Muffins
Lunch: McVeggie Burgers, Falafels with Tahini and Hummus, and Quinoa, Dal, Potato and Split Pea Soups
Dressings: Tofu Dips and Artichoke Spread, Walnut Sauce and Peanut Dressing
Dinner: Baked Penne Florentine, Easy Mayan Black Beans, Creamy Pasta Primavera, Thai Green Curry Rice
Desserts: Lemon and Chocolate Puddings
John McDougall takes on some of medicine's greatest controversies in order to give you the opportunity to avoid unnecessary treatments and enjoy the excellent appearance and health you deserve. He provides the latest information on these fourteen medical topics: Type-2 Diabetes, Angioplasty and Heart Disease, Statins and Cholesterol, Children and Pregnancy, Hypertension, Arthritis, Osteoporosis and Osteopena, Body Odor, Aging Gracefully, Atherosclerosis, How Moderation is Possible, How Dr. McDougall Prescribes, Foods Calm the Intestines, and Coconut, Yes! Oils, No!
Director: John McDougall
Release Date: 2007