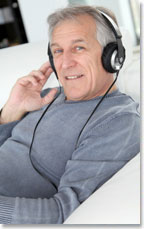 Researchers have discovered that combining music therapy with traditional therapy for stroke patients improves their success rates significantly. Furthermore, studies found that music therapy helped stroke victims to recover faster by increasing patient's positive emotions and motivation, allowing them to be more successful and driven to participate in traditional therapies.
Music therapy provided by trained music therapists also helps to improve movement in stroke patients, and research trials suggest a wider role for music in recovery from brain injury.
More than 20 million people suffer strokes each year. Many patients acquire brain injuries that affect their movement and language abilities, which results in significant loss of quality of life. Music therapists are trained in techniques that stimulate brain functions and aim to improve outcomes for patients. One common technique is rhythmic auditory stimulation (RAS), which relies on the connections between rhythm and movement. Music of a particular tempo is used to stimulate movement in the patient.
In a recent review of 7 studies, which together involved 184 people, music therapy helped stroke victims in all cases. Four studies focused specifically on stroke patients, with three of these using RAS as the treatment technique. RAS therapy improved walking speed by an average of 14 metres per minute compared to standard movement therapy, and helped patients take longer steps. In one trial, RAS also improved arm movements, as measured by elbow extension angle.
This review shows encouraging results for the effects of music therapy in stroke patients. As most of the studies the researchers looked at used rhythm-based methods, they suggested that rhythm may be a primary factor in music therapy approaches to treating stroke.
Other music therapy techniques, including listening to live and recorded music, were employed to try to improve speech, behavior and pain in patients with brain injuries, and although outcomes in some cases were positive, evidence was limited.
Previous research using brain imaging has shown that music can affect portions of the brain. Part of music therapy is the ability of music to affect emotions and social interactions. In one study, researchers showed that music therapy is associated with a decrease in depression, improved mood, and a reduction in state anxiety. Both descriptive and experimental studies have documented effects of music on quality of life, involvement with the environment, expression of feelings, awareness and responsiveness, positive associations, and socialization. Additionally, music therapy had a positive effect on social and behavioral outcomes and showed some encouraging trends with respect to mood.
Research has shown the ability of music therapy to increase positive social interactions, positive emotions, and motivation in stroke patients. One study found that group music therapy sessions increased the ease at which stroke patients responded to social interaction and increased positive attitude reports from patient families, while individual sessions helped to motivate patients for treatment.
There may be mediating factors which affect the success of music therapy. For example, research found the more impaired an individual's social behavior was at the outset of treatment, the more likely he or she was to benefit from music therapy.