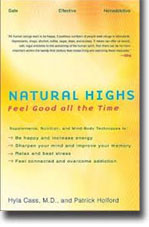 In Natural Highs: Supplements, Nutrition, and Mind-Body Techniques to Help You Feel Good All the Time, two leading authorities in psychology and nutrition present a prescriptive breakthrough program based on nutritional supplements, herbs, and simple mind-body therapies that will help to increase energy, sharpen the mind, elevate mood, relax the body, and beat stress.
Their remarkable research shows how to formulate the perfect "brainfood" to improve how we think and feel, resulting in a greater sense of connection and joy in everyday life-the natural high.
Boundless energy awaits anyone willing to trade their cigs, drugs, or lattés for the healthier alternatives prescribed in Natural Highs. According to authors Hyla Cass, M.D., and Patrick Holford, the first step toward bliss is eating right
In their lean yet satisfying nutrition chapter, they advocate a fairly even ratio of complex carbohydrates, proteins, and fats; plenty of water; high-potency multivitamins; and minerals. After establishing this balanced diet, those seeking to "get high" or "chill out" can select from a menu of natural supplements and substances: various stress busters, energizers, and mood enhancers that research shows can mimic–or surpass–the appealing effects of stimulants like caffeine, sugar, and nicotine or sedatives like dope, alcohol, and tranquilizers.
Best of all, these good vibrations allegedly come without the typical letdowns or addictions. Historical tidbits, ample charts and diagrams, scientific data, and case studies from the authors' practices create a compelling argument for natural alternatives, including kava, ginseng, choline, and DMAE.
Helpful sidebars outline the positive effects, cautions (rarely any), and recommended dosages associated with each item. Cass and Holford also delve into uplifting lifestyle enhancements like meditation, massage, dance, and sexual chemistry. Lots of reference material rounds out this guide to healthy–and legal–mood magic.
Authors: Hyla Cass, Patrick Holford
Year of Release: 2003