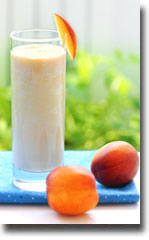 The main physical difference is that peaches have a fuzzy coating, whereas nectarines are smooth and do not have this coating. They are almost identical genetically, but there is a gene variant between the two. Peaches have a dominant allele (variant form of a gene), which results in the soft, fuzzy coating on the outside. They can be freestone, which means the pit falls easily away from the flesh, or clingstone, where the pits stay stuck to the flesh. Peaches can come in yellow or white varieties.
Number of servings: 1, 190 calories per serving.
Ingredients
1 large banana, frozen in slices
½ cup frozen pineapple, in chunks
1 medium white nectarine, chopped
1 tsp vanilla extract
6 ounces silken tofu
dash of cinnamon, to taste
Instructions
Blend everything in your Vita-Mix , adding more milk of water if you need or want to (you made need to in a less high-powered blender, but it's up to you), to an almost-smoothie-almost-soft-serve consistency.
Sip slowly, reveling in the fact that this smoothie is almost as refreshing as sleeping.