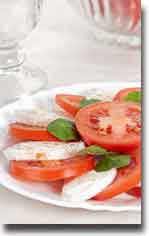 Italian dressing offers a healthier option to regular creamy dressings because it's naturally lower in calories and fat. You won't get many nutrients from any salad dressing, but regular Italian dressing is a good source of vitamin K and healthy unsaturated fats that help prevent cardiovascular disease. Transform your greens and vegetables with this bright, fresh, aromatic oil-free Italian salad dressing without all the calorie dense oil. Serves: ¾ cup.
Ingredients
¾ cup cooked white beans, drained and rinsed (if using canned)
¼ cup water (or more)
2 tablespoons fresh lemon juice
1 garlic clove, chopped
1½ tablespoons shallots, chopped
½ teaspoon dried oregano
½ teaspoon Stevia
1 tablespoon fresh parsley, chopped (or more to taste)
Fresh ground black pepper
Instructions
Place all the ingredients in a blender or food processor. Process until smooth. Taste and adjust seasonings adding a little more parsley or water if needed.
Recipe Note
If saltier taste is needed, add Bragg Liquid Aminos to taste.