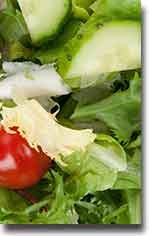 Transform your greens and vegetables with these bright, fresh, aromatic oil-free salad dressing recipes without all the calories. The most basic way to make a salad taste really, really good is to toss it lightly with good dressing, then squeeze a little lemon or drizzle some balsamic vinegar over it. Toss with a generous sprinkle of pepper, which are often all too neglected in salads, and you have yourself a delicious side salad. Herbs will just make it that much better.
Ingredients
¼ cup water
1½ tablespoons cider vinegar
1 small shallot, chopped
2½ teaspoons dijon mustard
¼ teaspoon Stevia
Fresh ground black pepper
1 tablespoon fresh parsley, chopped
Instructions
Combine all the ingredients except the parsley into a food processor or blender. Process until smooth. Add the chopped parsley, Taste and adjust seasonings.
Cover and refrigerate. Will keep 4-5 days refrigerated.
Recipe Note
If saltier taste is needed, add Bragg Liquid Aminos to taste.