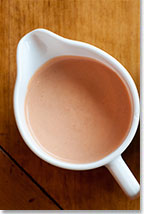 Peppers are native to Mexico, Central America, and northern South America. Pepper seeds were imported to Spain in 1493, and from there, spread to Europe and Asia. China is the world's largest pepper producer.
The bell pepper is the only member of the genus Capsicum that does not produce capsaicin, a lipophilic chemical that can cause a strong burning sensation when it comes in contact with mucous membranes. The lack of capsaicin in bell peppers is due to a recessive form of a gene that eliminates capsaicin and, consequently, the "hot" taste usually associated with the rest of the genus Capsicum.
Ingredients
2 large red bell peppers, veined and stems removed
1/2 cup  vegetable broth
5 sprigs cilantro with stems
1/2 shallot peeled
1/3 teas ground coriander
1/2 teas round cumin
pinch basil
Instructions
Cut the pepper in half
Roast the pepper skin side up at 350 degrees for 20 minutes until skins are brown
Remove and let cool.
Remove and discard the core and seeds.
Remove skin and charred bitties.
Puree pepper and garlic in food processor.
Blend in remaining ingredients.
Recipe Note
If a saltier taste is desired, add Bragg Liquid Aminos to taste.