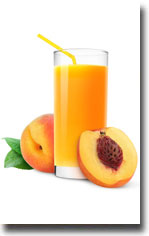 Peaches originated in China where they were cultivated since the early days of Chinese culture. Considered the favorite fruit of emperors, peaches were first mentioned in Chinese writings dating back to the 10th century. From China, the "Persian apple," the translated Latin name, was introduced to the Romans by the Persians (now Iranians) and later introduced to Europe by Alexander the Great.
Number of servings: 1, 190 calories per serving.
Ingredients:
2 peaches, pitted
2 apples, sliced
water if needed
Instructions:
Combine everything into your blender and blend to desired consistency.
Add more water if needed to get things moving around in the blender.