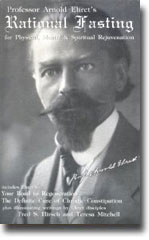 Arnold Ehret, a German-born health educator who came to the United States in 1914, was an advocate of fasting. Ehret's interest in fasting began in 1907, when he visited Monte Verità, a health retreat in Ascona, Italy where people went to fast in the early 1900s.
In 1909, Ehret fasted for 51 days at Kastans Panoptikum, a health facility in Cologne. Ehret undertook numerous lengthy fasts during his lifetime and operated health clinics in Europe and in the United States.
First published in 1910, this classic book is considered Ehret's health masterpiece. He explains how to successfully conduct and complete a fast in order to gain maximum strength and energy for joyful living. Also included are essays based on Ehret's teachings by Fred Hirsch and long-time devotee Teresa Mitchell.
Arnold Ehret was a man of unique insight, with a prophetic understanding of how to cleanse and rebuild the body. It would take the world of orthodox medicine 80 years to catch up with him.
Ehret looks very wise on the picture of this book and I believe he really is. He honestly (without sales in the back of his mind) explains the ins and out of fasting and why you need it in your live. Explained are the save steps on how and why you should take these to improve your overall health.
Author: Arnold Ehret
Year of Release: 1922