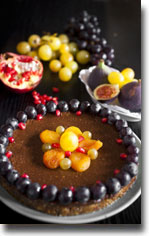 This raw chocolate cake recipe is a perfect base for a simple, moist chocolate cake. Walnuts, pecans, dates, raisins, cocoa and vanilla combine in a food processor for a dense, raw chocolate cake. This raw chocolate cake recipe is a perfect base for a simple, chocolate cake. This cake is pure indulgence. This raw vegan chocolate fudge cake is not for the faint of heart.

Number of servings: 15, 320 calories per serving.
Ingredients:
1 1/2 cups walnuts
1 1/2 cups pecans
1 1/2 cups dates
1 1/2 cups raisins
1/3 cup raw cocoa powder
2 teaspoons pure vanilla extract
Directions:
Add coconut to your food processor, cover, and pulse several times to further break up the coconut.
Add the remaining ingredients, cover, and run the processor again to mix completely. Scrape down the sides if necessary.
Working quickly as coconut oil melts rapidly in your hands, roll the mixture into small balls and place in a dish lined with parchment paper.
Chop cashews, pecans, and hazelnuts. Garnish top with chopped nuts.
Refrigerate immediately, allowing the macaroons to set up, then cover and store in your fridge or freezer.
1. In a food processor, process nuts until they are very well blended, so that they look like chunky flour. Basically, you should just see little chunky bits of nuts.
Then, add everything else to the food processor and continue blending. You'll probably want to add the ingredients one at a time otherwise your food processor might get all munged up.
Keep on processing until your mixture looks like a big ball of dough, like you can see in the picture. There shouldn't be big chunks of anything. You will probably see small flecks of nuts though. Once you've got a giant raw chocolate cake dough ball, then the fun begins. You do not need to dehydrate this or anything, the cake is basically done now you just need to figure out the presentation (shape and icing or whatever you want).
Just press the dough into the desired shape for whatever you want to make. For example, just take a nice cake plate and press the dough into a cake shape.
Refrigerate for at least 1 hour to allow the cake to firm up.
Garnish with your favorite fruit, like in the picture above.