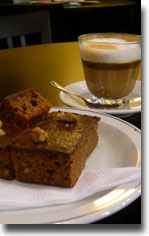 This raw brownie recipe is one of my most popular recipes at Christmas, probably because it is so easy and turns out so well. Cashews, raisins, coconut, cacao and salt combine in a food processor to create a surprisingly delicious traditional-style brownie. Top with chocolate icing for even more chocolate goodness.
Number of servings: 1, 430 calories per serving.
BROWNIE MIX
1/2 cup cashews
1/2 cup raisins
4 tablespoons cacao powder
1/2 teaspoon vanilla
pinch of salt
FROSTING
1 tablespoon coconut oil
1 tablespoon agave
2 tablespoons cacao powder
shredded coconut (for topping)
Instructions
In a food processor, use "S" blade with cashews until finely ground and powdery.
Add the raisins, cacao powder, vanilla and salt.
Process until the mixture begins to stick together.
Press the brownie mixture firmly into mold.
Release onto a plate.
For the frosting, stir together the coconut oil, agave, and cacao powder until smooth.
Spread onto brownie and top with coconut flakes.