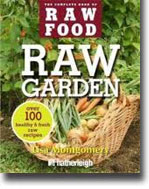 If you love growing your own fruits and vegetables, but are unsure how to start using your harvest, now is your chance to learn. Whether you're new to gardening or have been doing it for years, Raw Garden: Over 100 Healthy and Fresh Raw Recipes is the perfect resource to help you create dishes based on ingredients found in your garden by sharing simple, delicious raw food recipes for you to try.
From salads and snacks, to main dishes and desserts, Raw Garden has some of the best raw food recipes you can find.
Some of the over 100 delicious and creative recipes featured in Raw Garden include Curry Carrot Salad, Cranberry Walnut Coleslaw, Southwestern Stuffed Avocadoes, Goji Coconut Cream Sauce, Pine Nut Parmesan, Turkey Nut Burgers, Sea Spaghetti Alfredo, Banana Ice Cream, Pineapple Salsa, and much more!
Packed with lots of practical and helpful information, Raw Garden also includes:
Tips on planning your garden
Benefits of growing and eating raw food
How to garden in small living spaces
A guide to the art of bee- and chicken-keeping
With unique and exciting raw recipes, Raw Garden is sure to bring your gardening, and your meals, to new heights.
Author: Lisa Montgomery
Year of Release: 2011