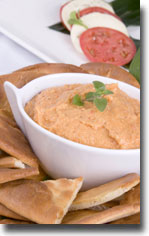 The tahini part of hummus, made from sesame seeds, has also been in the Middle East since ancient times. Sesame seeds were used to make sesame oil in food in Mesopotamia since 2500 BCE, so tahini is likely to be about that old.
Number of servings: 6, 130 calories per serving.
1 1/4 cup red lentils (rinsed)
3 cups water
2 large cloves garlic, peeled
1 tablespoon lemon juice
Braggs Aminos to taste
Put the lentils and water in a medium saucepan and bring to a boil.
Reduce heat and simmer, covered, until the lentils are soft, about 20-30 minutes. Check often and add water if it seems dry.
Drain all water from the lentils. Put them and all remaining ingredients into the food processor and blend until smooth.
Transfer to a covered bowl, sprinkle with chopped chili peppers, if desired, and serve chilled or at room temperature.