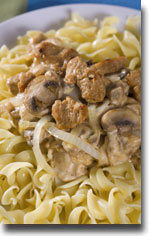 The origin and history of Beef Stroganoff dates backs to 19th century. Although not a new recipe, at that time but a refined version of an even older Russian recipe, it had probably been in the family of Count Pavel Stroganoff's for some years and had become well known through his love of entertaining. Count Pavel Stroganoff was a celebrity, a dignitary at the court of Alexander III, a member of the Imperial Academy of Arts, and a known gourmet.
Ingredients
2 tablespoons cornstarch
3 tablespoons soy sauce
1 1/3 cups vegan chicken broth or 1 1/3 cups vegetable broth or 1 1/3 cups water
1/2 teaspoon garlic granules
2 tablespoons tahini
2 teaspoons canola oil or 2 teaspoons olive oil
1 cup green onion
2 -3 garlic cloves, minced
3 cups sliced mushrooms or 3 cups portabella mushrooms
2 cups seitan (strips thinly sliced)
ground black pepper, to taste
egg-free pasta (one normal sized package)
3 tablespoons vegan sour cream
Directions
Gravy: Stir cornstarch and soy sauce together in a 2-quart saucepan and make a thin, smooth, paste.
Whisk in the broth or water and garlic granules.
Cook over medium-high heat, stirring constantly until it thickens and comes to a boil.
Remove from heat and beat in the tahini and vegan sour cream.
Cover the saucepan and set aside.
Place oil in a large skillet and heat over medium-high.
When the oil is hot, sauté the onion and garlic for 10 minutes.
Add the mushrooms and cook, stirring often, for 5 to 7 minutes.
Stir the seitan strips and the reserved gravy into the onions and mushrooms.
Reduce heat to low and stir often, about 5 to 10 minutes, until the seitan is heated through.
Season the stroganoff with ground pepper.
Serve at once over egg-free noodles.