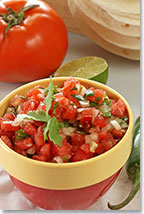 Salsa is any one of several sauces typical of Mexican cuisine, also known as salsa fresca, hot salsa or salsa picante, particularly those used as dips. Salsa is often tomato-based, and includes ingredients such as onions, chilies, and herbs.This is a quick and easy salsa recipe that is barely any work. Get fresh, restaurant quality salsa in just minutes.
Servings: 4
Calories: 13 kcal
Ingredients
4 medium tomatoes diced
1 small onion (roughly chopped)
1/4 jalapeno pepper (seeded and diced)
2 cloves of garlic (chopped)
1/2 tsp ground cumin
1 cup cilantro (loosely packed)
Juice of 1 lime
Bragg Liquid Aminos to taste
Instructions
Add all ingredients to a food processor. Pulse until all ingredients are broken up and desired texture is reached.