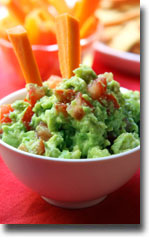 When you're eating guacamole, you're eating history that dates back to the 1500s. The Aztec empire created this spread with the same exact ingredients that local restaurants use today. The Aztecs called this saucy spread "ahuaca-mulli" which translates to avocado-mixture or avocado-sauce.  In addition to its use in modern Mexican cuisine, it has also become part of American cuisine as a dip, condiment and salad ingredient.

Makes about 4 cups, 8
servings; 210 calories per serving.
Ingredients:
4 avocados

1/3 cup lemon juice

1/2 cup fresh cilantro, finely chopped

1 medium tomato, diced

1 jalapeno, diced (remove seeds)

1 tsp garlic powder

1/2 tsp chipotle pepper powder

Braggs Aminos to taste

Dash fresh black pepper
Directions:

Cut up avocados.

Toss avocados with lemon juice.

Fold in the diced jalapeno, chopped cilantro, tomato, and spices and then toss well.

Keep refridgerated before serving.

Note: If you want to make this hotter add 1/4 to 1 fresh habanero, stemmed, seeded, deveined and finely chopped.