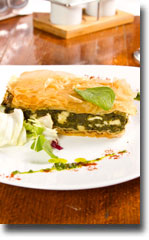 Artichoke is one of the popular winter months edible flower bud of Mediterranean origin. In Greek, its use as a vegetable is well known to the ancient Greeks and Romans who advocated it for its medicinal and health benefiting qualities. The artichoke contains anti-oxidants and regular consumption helps the body develop resistance against infectious agents and scavenge harmful, pro-inflammatory free radicals from the body.
Servings 8: calories 200 per serving.
Ingredients:
1 medium onion, chopped fine
2 cloves garlic, minced
12-16 ounces baby spinach (I used the pre-washed, bagged kind)
1 pound extra-firm tofu
2 tbsp. nutritional yeast
1 tsp. salt, or to taste
2 tsp. dried oregano
2 tbsp. lemon juice
1 tbsp. minced Kalamata olives
pinch cayenne
1/4 tsp. ground cumin
black pepper, to taste
1 14-ounce can quartered artichokes, coarsely chopped
1/4 cup slivered almonds, slightly crushed (or toasted pinenuts)
12 sheets vegan phyllo dough, thawed
olive oil in spray bottle
Directions:
Sauté the onion and garlic in a large, deep non-stick skillet for 3 minutes. Add the spinach and 2 tablespoons water, stir, and cover the skillet. (If you couldn't fit all of the spinach in, wait a minute for the spinach to shrink and add more.) Cook until the spinach is completely wilted and shrunken. Set aside.
While the spinach is cooking, mash the tofu and stir in the nutritional yeast and all the seasonings, including the olives. Add the artichokes, almonds, and the spinach mixture, and mix well.
Preheat the oven to 375 F and lightly spray a 9×13-inch baking dish with olive oil. Unwrap the phyllo dough and arrange it beside the baking dish as described above. Lay a sheet of phyllo over the bottom of the pan, spray it lightly with olive oil, and repeat the process until you have 6 sheets in the bottom of the pan. Make sure the remaining phyllo is covered with a damp cloth, and pour the spinach-tofu filling into the pan, spreading it to completely cover the phyllo. Repeat the phyllo process, covering the filling with six more sheets, spraying each one lightly. Make sure to spray the top sheet thoroughly, so that there are no un-oiled spots.
With a sharp knife, cut through the top layer of phyllo to form 9-12 equal pieces. (This helps to keep the phyllo from breaking when you cut it after baking).
Put it in the oven and bake for 30-35 minutes, until the top is lightly browned.