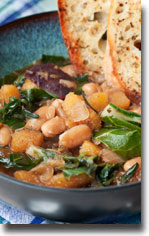 This hearty soup with butternut and beans will warm kids up on a chilly fall or winter day. For even more flavor, sprinkle each bowl with vegan grated cheese before serving. The squash gives it a good sweet taste. I like to serve it with a toasted whole grain bread.
Serves one, 270 calories per portion.
Ingredients:
1 chopped onion
3 cups cubed butternut squash
3 cups vegetable stock
1 can white kidney beans
1 chopped red pepper
3 cloves garlic
1 tsp dried sage
2 kale leaves
handful of chopped parsley
Braggs Aminos and pepper to taste
Directions:
Cook the onion, red pepper, garlic, sage, kale, Braggs and pepper in the olive oil for about 6 minutes.
Add squash, and stir for a further 2 minutes.
Pour in stock, 1 cup of water and beans and bring to boil.
Reduce the heat, then simmer for 12 minutes until squash is soft.
Stir in parsley and serve.