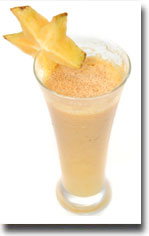 Carambola, also known as starfruit, is the fruit of Averrhoa carambola, a species of tree native to the Philippines, Indonesia, Malaysia, Vietnam, India, Bangladesh and Sri Lanka. The fruit is popular throughout Southeast Asia, the South Pacific, Micronesia, and parts of East Asia.
Number of servings: 2, 180 calories per serving.
Ingredients:
4

star fruit (carambola)

2 peaches, pitted
water if needed
sliced star fruit for garnish
Instructions:
Combine everything into your blender and blend to desired consistency.
Add more water if needed to get things moving around in the blender.