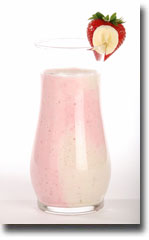 This vegan shake is great all by itself but it is also a great base shake to add your daily powdered and liquid supplement to. It's also good for energy and added protein after a hard workout.
Number of servings: 1, 350 calories per serving.
Ingredients:
1 cup frozen strawberries
1 banana, frozen
1/2 cup vanilla coconut milk
1 heaping scoop of your favorite vegan vanilla protein powder (i.e.

Sun Warrior brand)
Instructions:
Combine everything into your blender and blend.
Add more vanilla non-dairy milk if you want a thinner shake.
Optional: serve with coconut whipped cream on top.