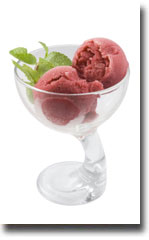 Given their amazing combination of phytonutrients—including anthocyanins, ellagitannins, flavonols, terpenoids, and phenolic acids—it's not surprising to find increasing research interest in the anti-inflammatory properties of strawberries. But it's still exciting to see this remarkable fruit lowering levels of inflammatory markers like C-reactive protein (CRP).
Serves 4, 320 calories per serving.
Ingredients:
2 cups frozen strawberries
1 banana, ripe
1/4 cup lime juice
1/2 teas Stevia
Directions:
Slightly thaw the frozen fruit so that it easily blends.
Add all ingredients to a high speed/high quality blender like a Vitamix.
Blend until smooth but do not overblend. Keep mixture as thick and frosty as possible.
Pour into a chilled metal container.
Chill until firm, then serve.
Optional: serve with coconut whipped cream on top.