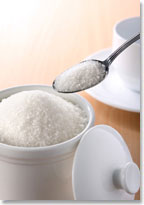 Although the term "sugar addiction" often appears in magazines and on television, scientists had not demonstrated that such a thing as sugar dependency really exist.
Recently, researchers studying rats that were induced to binge on sugar and found that they exhibited telltale signs of withdrawal, including "the shakes" and changes in brain chemistry, when the effects of the sweets were blocked. These signs are similar to those produced by drug withdrawal.
Sugar triggers production of the brain's natural opioids. That is a key to the addiction process. The brain is getting addicted to its own opioids as it would to morphine or heroin. Drugs give a bigger effect, but it is essentially the same process.
The greatest value of the research is that it provides an animal model of sugar dependency, allowing scientists to probe more deeply the connections between food cravings and brain physiology.
In their experiments, the researchers started rats on a pattern of bingeing by withholding food for 12 hours when the rats were sleeping and through breakfast time, then giving them nutritionally balanced food plus sugar water. The animals gradually increased their daily sugar intake until it doubled, consuming most of it in the first hour it was available.
When the researchers suddenly removed the sugar portion of the rats' diet, the animals exhibited teeth chattering, a common sign of withdrawal. For some animals, the researchers removed the sugar and also administered a dose of a drug that blocks the opioid receptors in the brain. In addition to teeth chattering, those animals showed anxiety and a reversal in the usual balance of neurochemicals in the brain's motivation system.
The key to health is the moderate consumption of complex carbohydrates – from natural food sources, such as fresh vegetables and, to a lesser extent, cooked vegetables — balanced with intake of protein from a clean source, such as organically grown soy products. Anything less than this is a compromise and will eventually affect your health and/or longevity. While it is true that this stuff breaks down to simple sugars in a few hours, if you take your carbs in this fashion, the quantity will be tolerable, and it will come with other nutrients.