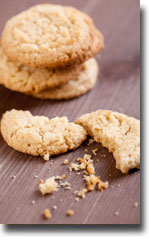 By definition, a sugar cookie is consists of sugar, flour, butter, eggs, vanilla, and either baking powder or baking soda. Based on this, you might think it difficult to make a vegan sugar cookie without butter or eggs. This recipe makes some of the most delicious cookies I've ever had.
Number of servings: 8, 270 calories per serving.
Ingredients:
2-1/2 cups flour
1/4 tsp salt
1/2 tsp baking soda
1 cup of sugar, for divided use
1 cup vegan margarine, at room temperature
1/3 cup lemon zest
1/4 cup silken tofu
3 tbsp fresh lemon juice
Directions:
First, preheat the oven to 400 degrees F.
Place the flour, salt, and baking soda in a medium bowl, and whisk them together until they're mixed. Set this aside for a moment.
In a large bowl, combine the margarine, 2/3 cup of sugar, and the lemon zest. Beat them with a stand mixer or hand mixer until they're light and fluffy, about 2 minutes. Add the tofu and the lemon juice, and beat until everything is mixed well together. With the mixer running on low, slowly add the dry ingredients, mixing just until they're combined. Take a spatula and stir the dough a few times by hand, making sure to scrape the sides and bottom of the bowl so that there aren't any patches of flour remaining.
Use a cookie scoop to form the dough into 1-inch balls. Roll them around in the remaining 1/3 cup of sugar, then place them on a cookie sheet lined with parchment paper, and gently flatten them a bit. Bake the cookies in the 400 degree F oven for 8-10 minutes, until they're puffed and lightly golden around the edges. Remove them from the oven and let them cool for 2-3 minutes on the cookie sheet, then move them to a wire rack to cool completely.