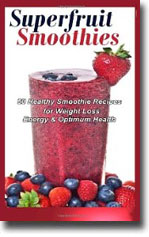 Superfruit Smoothies: 50 Healthy Smoothie Recipes for Weight Loss, Energy & Optimum Health is more than just a recipe book! Inside this book you will find 50 delicious healthy smoothie recipes for weight loss, energy and optimum health, including mind-blowing information about the excellent benefits of superfruits.
What is a superfruit smoothie? A superfruit smoothie is a fruit based drink made using fruits that contain rich sources of antioxidants, vitamins and nutrients. Superfruits can be everyday fruits and exotic fruits.
The human body is incapable of producing its own concentration of antioxidants. For this reason, we depend solely on our diet in order to get the store of antioxidants we need to combat diseases and stay healthy. Whether your goal is to lose weight, fight the signs of aging, prevent illness or gain extra energy, you are bound to find a recipe in Superfruit Smoothies that's especially created. Each recipe includes calorie count information.
Sample of the recipes include:
SUPERFRUIT SMOOTHIES FOR BREAKFAST
Great Fig Breakfast Smoothie
Nutty Peach Smoothie
SUPERFRUIT SMOOTHIES FOR WEIGHT LOSS
Slimline Strawberry Smoothie
Lean Green Smoothie
SUPERFRUIT SMOOTHIES FOR OPTIMUM HEALTH
Exotic Fruit Explosion
Raspberry Kick Smoothie
SUPERFRUIT SMOOTHIES FOR DESSERT
Chocolate Cheesecake Smoothie
Coconut Twist Smoothie
SUPERFRUIT SMOOTHIES FOR ENERGY
Go Nuts Energy Smoothie
Schwarzenegger Smoothie
Author: Gifty Child
Year of Release: 2011