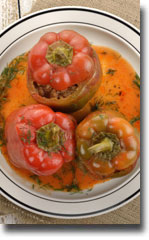 Everyone I serve these to just love these bright vegan stuffed peppers. They are comforting, healthy and delicious. One of the best things about making stuffed peppers is that you can try many different ingredients for the stuffing. You can switch up the tempeh for mushrooms, eggplant, leeks, carrots or whatever you can find in your fridge. That's the beauty of these stuffed peppers — you can customize them according to your taste-buds and what you have in your fridge.
Number of servings: 3 peppers, 320 calories per serving.
Ingredients:
3 large green, red, or yellow peppers
1 1/2 cups vegan pesto
1 1/2 cups tempeh, sliced into thin strips
1 1/2 Tbsp maple syrup
1 1/2 Tbsp olive oil
1 1/2 tsp black pepper
1 1/2 tsp salt
pepper to taste
1 lemon, juiced
Directions:
PREPARE THE PEPPER
Cut the cut off the pepper so the top can be re-used.
Repeat for each pepper you are stuffing.
TEMPEH
Turn heat on high.
Place 1 Tbsp olive oil in a saute pan.
Lay tempeh strips in one layer in bottom of pan.
Add in 3 Tbsp of lemon juice, 1 Tbsp of maple syrup and a sprinkle of salt and pepper.
Let saute for 2 minutes.
Flip tempeh. Bottom side should have browned up nicely.
FINAL ASSEMBLY
Spoon 1 heaping spoonful of pesto on the bottom of the peppers.
Place one tempeh strips over the pesto in the bottom of the pepper.
Add more spoonfuls of pesto, layering the remaining tempeh strips as you go.
Spoon a final layer of pesto on top.
Put the top back on the peppers.
Place peppers in baking dish and bake at 375 for 15 minutes.