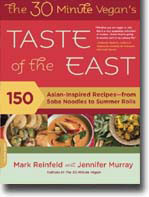 The 30-Minute Vegan's Taste of the East: 150 Asian-Inspired Recipes–from Soba Noodles to Summer Rolls is organized by country of origin, so you don't have to wait to get to the end of the book to get to the dessert recipes. Within each section, the recipes are listed in the order you'd find them on a menu, from appetizers to desserts.
Each section starts with a glossary of ingredients unique to the country's cuisine, and sprinkled throughout the book are helpful boxes with Thoughtful Chef's Tips and Tricks. (What do you do if you tear your nori in the middle of making a sushi roll?) Highly useful appendixes include Preparation Basics for everything from toasting spices, nuts, and seeds to roasting tofu and tempeh.
Noted vegans and vegetarians love Mark Reinfeld and Jennifer Murray's food. Food Network host and author Ellie Krieger lauds their recipes as "delicious, exciting, healthful, [and] accessible for everyone," while Deborah Madison notes their "appealing recipes, good information about food and cooking in general [and] surprisingly realistic approaches to thirty-minute cooking."
Reinfeld and Murray turn their skillets to the East, featuring over 150 vegan versions of favorite cuisine from India, Thailand, China, and Japan. Taste of the East also offers inspired animal-free recipes from Indonesia, Nepal, Vietnam, Korea, Tibet, Iran, and Afghanistan.
Authors: Mark Reinfeld, Jennifer Murray
Year of Release: 2010