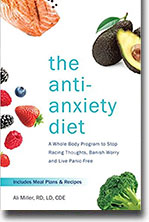 Every day, millions of American struggle with debilitating anxiety, which causes not only mental symptoms such as thought rumination, depression, and irritability, but also physical symptoms like digestive distress, shakiness, headaches, weight gain, adrenal or thyroid dysfunction, chronic fatigue, and even autoimmune diseases.
Luckily, there is now a scientifically based nutritional way to manage your symptoms and live a healthier, happier, more peaceful life: The Anti-Anxiety Diet.
In this book, registered dietitian and food-as-medicine guru Ali Miller teaches you how to discover and treat the root causes of your body's chemical imbalances using functional medicine approaches. Create your own personalized eating plan from dozens of delicious recipes, including Sweet Potato Avocado Toast, Zesty Creamy Carrot Soup, Almond Collagen Hot Chocolate, Stress Stabilizing Steamer, and more.
Miller is an integrative dietitian and owner of Naturally Nourished a functional medicine virtual nutrition practice. She is a Registered and Licensed Dietitian, Certified Diabetes Educator, certified weight management specialist, recognized leader, speaker, educator, and advocate in her field acknowledged as Houston's Top 50 Most Influential Women in 2015 for her her wellness plans using nutrients and food as medicine to reduce symptoms and optimize health.
Ali believes everything we put in our body can contribute towards optimal health or dysfunction and disease. Her Food-As-Medicine philosophy is supported by up-to-date scientific research for a functional approach to healing the body. Ali's message has influenced millions through media with weekly television segments, corporate outreach and within the medical community.
By using food as medicine, you can:
• Remove Inflammatory Foods
• Reset Gut Microbiome
• Repair GI Lining
• Restore Micronutrient Status
• Rebound Adrenals
• Rebalance Neurotransmitters
Author: Ali Miller
Year of Release: 2018