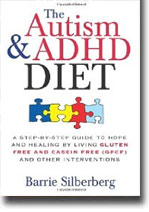 The Autism & ADHD Diet: A Step-by-Step Guide to Hope and Healing by Living Gluten Free and Casein Free (GFCF) and Other Interventions is a book about an amazing diet that is showing extraordinary results in helping children eliminate many traits and symptoms associated with autism spectrum disorders, ADHD, celiac disease, and other conditions. The Gluten-Free, Casein-Free (GFCF) Diet, as well as removing all artificial dyes and preservatives, is hugely effective for thousands of families.
The Autism & ADHD Diet is your complete guide to the GFCF Diet. Barrie Silberberg, a mother who honed her skills using the GFCF Diet with her son, who was diagnosed with ASD, gives you everything you need to know to put the diet into action with your child, including:
What the GFCF Diet is and why it's so effective
How to start the diet
Where and how to buy GFCF foods
How to avoid cross-contamination
How to understand labels on packaging
How to make this diet work day-to-day
Packed with parent-proven tips and the best resources for the diet, The Autism & ADHD Diet will alleviate all of your questions and provide a variety of ways to make this diet work best for you and your family.
Silberberg is filled with insightful information and useful resources to help those with Autism Spectrum Disorder (ASD) and ADHD implement a diet free of artificial dyes, preservatives, gluten and casein (milk protein). Considered controversial by some, the author addresses this issue in easy-to-understand language, presents relevant scientific study and passionately shares her own remarkable success in alleviating her son Noah's behavioral symptoms of ASD by adhering to the Autism and ADHD diet.
Author: Barrie Silberberg
Year of Release: 2009