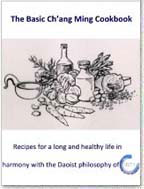 There is much interest in Taoist philosophy and taking a Daoist approach to life but very few books have been written on the practicalities of cooking and eating in a Ch'ang Ming way. Ch'ang Ming provides guidelines for a healthy life in accordance with the Dao and this "Basic Chang Ming Cookbook"by Lishi International provides a range of recipes for anyone wishing to cook and eat the Daoist way.
Lishi (pronounced "Lee Sher") is a Daoist system of breathing, Tai Chi, Qigong, Yoga and Kung Fu for a healthy body and mind. Ch'ang Ming is an integral part of this practise.
This book provides the basics and includes over forty recipes covering Soups, Main Courses and Cakes as well as a section providing some helpful guidelines to ensure your diet and lifestyle is in accord with the Daoist way.
Among the world religions, Daoism is unique because it includes developing the physical body as an essential part of spiritual growth.  In addition to practicing physical exercises to strengthen the body and meditation to strengthen the spirit, the Daoist lifestyle also uses diet as a way to attain physical and spiritual wellness.
In the Chinese healing diet, people eat to balance the pattern of the seasons.  In the Winter, when the world is cold, we use Yang foods to warm and stimulate the body.  In the Spring, we eat stimulating and neutral foods.  In the Summer heat we balance our bodies by eating calming and cooling Yin foods.  In the Fall, when the weather becomes dry, we eat moistening foods to help us retain fluids.   Many of us eat this way instinctively, enjoying hot stews in the winter and cooling salads and fruits in the summer.
In addition to using food to balance your energy with the seasons, it is also possible to eat to balance your own personal nature.  Younger, or more aggressive people who are more Yang in nature can eat more Yin foods to have a calming effect.  Older people or more reserved people are more Yin in nature and can eat more Yang foods to increase their strength and spunk.
Just as the Christian, Jewish, Buddhist, Hindu, and Islamic communities have within them a diverse assortment of lay people and clergy, each with a different layer of practice, this is also true in the Daoist community.
Author: Lishi International
Year of Release: 2014