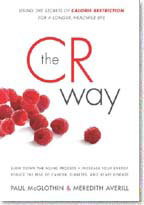 When it comes to living longer, scientists are discovering that less is more. By following Calorie Restriction, a revolutionary diet that provides the body with fewer calories than is traditionally required, people are getting dramatic benefits.
Now, with The CR Way, you too can slow the aging process; protect against cardiovascular disease, cancer, and diabetes; and increase your energy and mental capabilities.
If needed, you'll lose weight and keep it off.Paul McGlothin and Meredith Averill, leaders of the Calorie Restriction Society, provide quick and easy menus and recipes so delicious that you will wonder why you ever wanted to eat more than you need.
For those who want some of the benefits without sacrificing all the calories, the authors will show you how to plan a diet that works for you. Groundbreaking and controversial, The CR Way is your key to a happier, healthier life.
Tthis book had good, solid information about calorie restriction and how to live that lifestyle in a healthy way. They list plenty of resources to both check out the research as well as resources to assist your own process of living CR. While the authors clearly take CR to a level most people wouldn't be able to sustain, they give options for applying elements of CR to an individual's needs.
Authors: Paul McGlothin, Meredith Averill
Year of Release: 2008