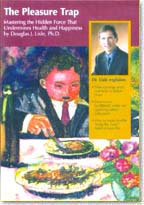 In this three-part lecture series, Dr. Lisle provides a fascinating new perspective on how modern life can turn so many smart, savvy people into the unwitting saboteurs of their own well-being. You will learn how to master the hidden force that undermines health and happiness.
Based upon a recent revolution in motivational psychology, The Pleasure Trap lectures provide you with solutions for the challenges of keeping on a healthful course – and how to make the most of your life.
Three areas that are addressed include:
How cravings work and how to defeat them
How to live healthfully while not upsetting others who won't
How to make healthy living the "easy" habit of your life
Douglas J. Lisle, Ph.D. received the President's Fellowship and was a Dupont Scholar at the University of Virginia where he completed his Ph.D. in Clinical Psychology. He was appointed Lecturer in Psychology at Stanford University and served as a consultant to the National Institutes of Health.
Lisle is currently the psychologist for The McDougall Wellness Program and is the Director of Research for the TrueNorth Health Center. Lisle lectures nationally on topics including evolutionary psychology, cognitive therapy, lifestyle modification, and weight loss. He has a private practice in Tiburon, California.
Director: John McDougall
Release Date: 2004