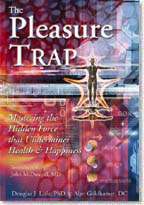 The Pleasure Trap: Mastering the Hidden Force that Undermines Health & Happiness is a wake-up call to even the most health conscious people. It boldy challenges conventional wisdom about sickness and unhappiness in today's contemporary culture, and offers groundbreaking solutions for achieving change.
Authors Douglas Lisel, Ph.D., and Alan Goldhamer, D.C., provide a fascinating new perspective on how modern life can turn so many smart, savvy people into the unwitting saboteurs of their own well-being.
Inspired by stunning original research, comprehensive clinical studies, and their successes with thousands of patients, the authors construct a new paradigm for the psychology of health, offering fresh hope for anyone stuck in a self-destructive rut.
Integrating principals of evolutionary biology with trailblazing, proactive strategies for wellness, they argue that people who are chronically overweight, sick and ailing, or junk food junkies aren't that way because they're lazy, undisciplined, or stuck with bad genes. The authors reveal that most are victims of a dilemma that harkens back to our prehistoric past-"the Pleasure Trap."
Drs. Lisle and Goldhamer then call upon their clinical experience, scientific investigations, and a recent revoution of understanding in human motivational psychology to provide you with solutions for the challenges of keeping on a healthful course-and how to make the most of your life.
Authors: Douglas J. Lisle, Alan Goldhamer
Year of Release: 2006