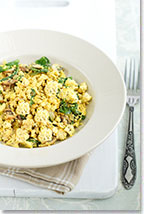 Are you looking for the perfect tofu egg salad recipe? With a tablespoon of mustard to give it a yellowish hue, this vegan tofu egg salad recipe looks and tastes like egg salad. With nothing but tofu, relish, mustard and spices, this simple tofu egg salad recipe is completely vegetarian, vegan, and also gluten-free.
Ingredients
4 oz silken tofu
2 tsp mustard, stone ground-variety
1/2 tsp Braggs Amino Acids
1/4 tsp black pepper
1 pinch cayenne pepper
2 cups extra firm Tofu chopped into small pieces
3 Tbsp uncooked celery, minced
3 Tbsp uncooked carrot(s), minced
6 Tbsp, chopped uncooked onion(s), or minced
2 Tbsp chives, chopped
Instructions
Puree tofu, mustard, Braggs, black pepper and cayenne pepper in a blender or small food processor. Combine firm tofu, celery, carrot and onion in a medium bowl..
Spoon tofu mixture over egg mixture and toss to coat; fold in chives.
Garnish with alfalfa sprouts and tomatoes.