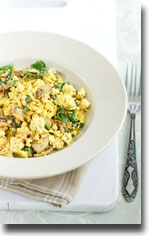 Generous portions of tofu scrambled with organic vegetables with hash browned potatoes on the side make up this delicious meal. Tofu scramble is a popular quick and easy scrambled egg substitute for vegetarians and vegans. Most vegetarian restaurants and many breakfast and brunch places serve up some version of this dish, but it's simple and easy enough to make at home with little more than tofu, a few veggies, a skillet and some seasonings.

Number of servings: 4, 390 calories per serving.
Ingredients:
2 14-ounce blocks extra-firm tofu
1 small onion, chopped
1 small green bell pepper, finely chopped
1 small red bell pepper, finely chopped
1/2 teaspoon ground coriander
1/2 teaspoon ground cumin
1 1/2 teaspoons ground turmeric
1 15-ounce can black beans, rinsed, drained
1/4 cup coarsely chopped fresh cilantro
Braggs Aminos and pepper to taste
4-6 whole wheat tortillas (oil-free) , warmed
Garnishes: salsa, sliced scallions, and hot pepper sauce (optional)
Directions:
Place tofu on a plate lined with several layers of paper towels (to absorb liquid). Using a fork or potato masher, smash tofu.
Heat oil in a large skillet over medium-high heat. Add onion and peppers; cook, stirring occasionally, until softened, 3-4 minutes.
Stir in coriander and cumin; cook until fragrant, about 1 minute. Stir in tofu, then turmeric.
Add beans; cook, stirring often, until heated through, 1-2 minutes.
Stir in cilantro; season with Braggs and pepper.
Note: If you want to make this hotter add 1/4 to 1 fresh habanero, stemmed, seeded, deveined and finely chopped.