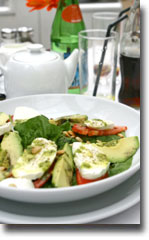 So-named because its colors reflect those of the Italian flag, this red, white and green salad is delicious paired bread. For added flavor, try drizzling unfiltered olive oil and red wine vinegar over the finished salad. It's terrific as a salad, but sometimes, I fill my plate and make it a meal.
Servings 2: calories 340 per serving.
Ingredients
3 large tomatoes, halved and thinly sliced
3 avocados, peeled, stoned and sliced
2 x 125g packs buffalo mozzarella, thickly sliced
3tbsp extra virgin olive oil
1tbsp balsamic vinegar
1tbsp clear honey
1 clove garlic, crushed
Basil leaves, to serve
Directions:
Divide the slices of tomato, avocado and mozzarella between six plates.
Whisk together the oil, vinegar, honey and garlic, then season.
Drizzle the dressing over the salad and garnish with basil leaves.
Serve immediately.
Optional: drizzle fresh pesto.