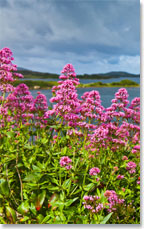 Valerian has a long tradition as a sleep-inducing agent, with the added benefit of not producing a hangover feeling the next day.
Clinical research of valerian has shown its efficacy in the treatment of mild insomnia. A Dutch study by Wissenschaftliche Beratung Pharma gave 121 people with insomnia dried valerian root for 28 days. At the 28-day mark, 75 showed an improvement in sleep quality and well-being.
In addition, valerian was at least as effective as the sleeping medication oxazepam. In modern herbal medicine, the leading herb for insomnia is valerian root (Valeriana officinalis). Valerian can make falling asleep easier and encourages deeper sleep and dreaming.
Numerous studies have shown valerian to be effective in improving sleep quality and helping people to fall asleep sooner. Research has also concluded that valerian has less side effects than drug therapy, including less impairment in performance the day after treatment. For example, valerian does not cause a morning hangover, the side effect common to prescription sleep drugs.
One study determined that valerian taken 30 minutes before bedtime for 28 days was as effective as oxazepam (Serax), a commonly prescribed medication for insomnia.
In another study, a combination of valerian root and lemon balm at bedtime was as effective as the sleeping drug triazolam (Halcion). Moreover, only the Halcion group felt hung over and had trouble concentrating the following day. Another double-blind trial found a combination of valerian and lemon balm taken before bed improved sleep quality in one-third of the participants.
Combining valerian root with other mildly sedating herbs is common both in Europe and the United States. Chamomile, hops, passion flower, lemon balm, American scullcap, and catnip are often used as sleep remedies. These herbs are used alone or in combination as mild sedatives for those suffering from insomnia. Chamomile is frequently used by people whose insomnia is related to gastrointestinal upset. In addition to valerian, hops and lemon balm are approved by the German government for relieving sleep disturbances.