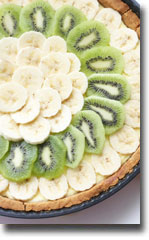 Bananas are a fascinating fruit in terms of their carbohydrate and sugar content. Even though bananas are a fruit that tastes quite sweet when ripe—containing 14-15 grams of total sugar—bananas receive a rating of low in their glycemic index (GI) value. GI measures the impact of a food on our blood sugar.
Bananas are stress-reducing because of their cardiovascular benefits. Bananas are a good source of potassium, an essential mineral for maintaining normal blood pressure and heart function. Since one medium-sized banana contains a whopping 400-plus mg of potassium, the inclusion of bananas in your routine meal plan may help to prevent high blood pressure and protect against atherosclerosis.
Makes 1 pie, about 8 servings, 390 calories per serving.
Ingredients:
TOPPING
1 box Mimiccreme Healthy Top
1 tsp crushed vanilla bean
1 ripe banana
FILLING
1 Tbsp agar agar
3/4 cup maple syrup
3/4 cup coconut milk (full fat)
2-3 Tbsp virgin coconut oil
13 ounce silken tofu
1/3 tsp salt
1/4 tsp vanilla extract
1 ripe banana
GARNISH
1 banana thinly sliced
3 kiwis thinly sliced
crust:
crushed vanilla or graham cookies or pre-made vanilla crust
Directions:
The agar agar is a a great gelling agent). Heat it in a small sauce pan with the coconut milk and maple syrup at high heat for about 3 minutes until the agar beads have dissolved, stirring constantly.
Immediately after turning off the heat, add in the 2 Tbsp virgin coconut oil and allow to slowly dissolve in the hot liquid.
Strain hot liquid through a mesh strainer so that any leftover clumps of agar are removed.
In a high speed blender or food processor, add the silken tofu, banana, vanilla extract, salt and the hot maple/coconut mixture.
Blend on low, then medium, then high until the mixture is silky.
Prep your crust in a pie pan. Add about 1/2 cup of banana slices to the crust.
Pour the pudding mixture over top. Add a few more banana slices over top the filling and around the edges.
Place in fridge. Chill until firmed. A few hours.
When ready to serve pie, add Healthy Top, a ripe banana, and vanilla specks to a large mixing bowl.
Beat until fluffy and creamy, making sure the banana has been smoothed into the whip.
Smooth the whip over top the chilled banana pie.
Add fresh banana and kiwi slices as garnish.
Serve immediately or chill in the refrigerator before serving.
Optional: serve with coconut whipped cream on top.
Click here for the Coconut Whipped Cream recipe