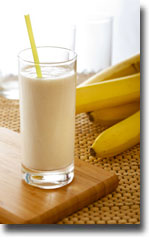 The unique mix of vitamins, minerals, and low glycemic carbohydrates in bananas has made them a favorite fruit among endurance athletes. Their easy portability, low expense, and great taste also help support their popularity in this exclusive group.
A 2012 study of distance cyclists found that eating the equivalent of about one half a banana every 15 minutes of a three-hour race was just as good at keeping energy levels steady as drinking an equivalent amount of carbohydrate and minerals from a processed sports beverage.
Number of servings: 1, 350 calories per serving.
Ingredients:
3 bananas, frozen
1/2 cup vanilla non-dairy milk
1 heaping scoop of your favorite vegan vanilla protein powder (i.e.

Sun Warrior brand)
Instructions:
Combine everything into your blender and blend.
Add more vanilla non-dairy milk if you want a thinner shake.
Optional: serve with coconut whipped cream on top.