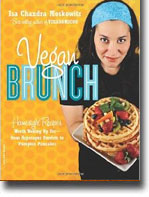 Vegan Brunch: Homestyle Recipes Worth Waking Up For–From Asparagus Omelets to Pumpkin Pancakes has it all; omelets, French toast, bacon. Brunch has always been about comfort, calories—and for vegans everywhere, a feast of foods they can't touch. Until now.
Bestselling vegan chef Isa Chandra Moskowitz unleashes her signature flair and ingenuity to give readers breakfast they won't find anywhere else, whether welcoming you from a late night on the town or waking you up for a meal you won't want to forget.
Recipes range from the classic (Pancakes and Waffles) to the inspired (Banana Rabanada) to the decadent (Pain au Chocolat) to the essential (Bloody Marys).
Here are some other recipes in the book:
Chesapeake Tempeh Cakes – these are crazy good and will turn anyone into a tempeh lover
Omelets – You'll have to seek out black salt for these, but trust me, it is worth it!
Scrambled Tortillas – a perfectly spicy Mexican breakfast with potatoes and corn tortillas
Classic Broccoli Quiche – the secret ingredient is cashews, which make it uber creamy and delicious
Gingerbread Waffles – easy and perfect for a Sunday morning
Lemon Pepper Tofu – quick and easy, it's my go-to tofu recipe
Blueberry Ginger Spelt Muffins – a sweet hearty muffin you'll want to take to work with you everyday
Tomato Rosemary Scones – taste really fancy, but only take a few minutes to throw together.
The book also includes gluten-free and soy-free recipes. With over 75 recipes suitable for one or to wow a crowd, and gorgeous color photos throughout, Vegan Brunch is the ultimate cookbook for the most important meal of the day.
Author: Isa Chandra Moskowitz
Year of Release: 2009