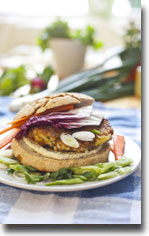 These delicious vegan burgers are made with textured vegetable protein (TVP). TVP is made from soy flour or concentrate, containing 50% and 70% soy protein, respectively; they have a mild beany flavor.  Using TVP, one can make vegetarian or vegan versions of traditionally meat-based dishes, such as chili con carne, spaghetti bolognese, sloppy joes, tacos, burgers, or burritos.
Number of servings: 2, 390 calories per serving.
Ingredients:
2/3 cup TVP (textured vegetable protein)
1 1/4 cup vegetable broth
1 egg, beaten
1 – 1/2 cups flour
1 onion, diced
1 tbsp ketchup
1/2 tsp oregano
1/2 tsp chili powder
1/4 tsp cayenne pepper
dash salt and pepper, to taste
Directions:
Combine the TVP (textured vegetable protein) and the vegetable broth in a large bowl. Allow the TVP to rehydrate for at least 15 minutes, or until all the liquid has been absorbed. Drain any excess moisture.
Combine the TVP with the remaining ingredients and stir to combine well. You may need to add a little more or less than 1 cup flour to get the mixture to the right sticky consistency.Form the mixture into patties and fry in oil on each side until lightly browned.
Serve on bun with whatever you like on your burgers.