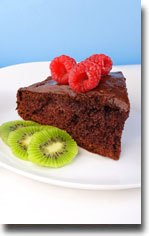 If you think that vegan desserts can't be delicious, this vegan chocolate cake with chocolate orange frosting will change your mind. For kids and adults with food allergies, finding a vegan birthday cake that's not dry and tasteless can be exhausting. The search is over thanks to this vegan dessert.
Number of servings: 12, 390 calories per serving.
Ingredients:
CAKE
Nonstick vegetable oil spray
1 cup all purpose flour
1 cup sugar
1/2 cup whole wheat pastry flour (whole grain pastry flour)
6 tablespoons unsweetened cocoa powder
1 teaspoon baking soda
1/2 teaspoon salt
3/4 cup water
1/3 cup vegetable oil
1/4 cup frozen orange juice concentrate, thawed
1 teaspoon vanilla extract
1 teaspoon distilled white vinegar
FROSTING
8 ounces bittersweet chocolate (not to exceed 61% cacao), chopped
6 tablespoons (3/4 stick) vegan "butter" or margarine, room temperature
1 cup powdered sugar
3 tablespoons frozen orange juice concentrate, thawed, divided
1/2 teaspoon vanilla extract
Large pinch of salt
1/4 cup light agave nectar
Directions:
CAKE
Preheat oven to 350°F. Spray 9-inch-diameter cake pan with 2-inch-high sides with nonstick spray.
Sift all purpose flour, sugar, whole wheat flour, cocoa powder, baking soda, and salt into large bowl.
Add 3/4 cup water, oil, juice concentrate, vanilla, and vinegar and whisk to blend.
Transfer batter to prepared pan.
Bake cake until tester inserted into center comes out clean, about 35 minutes.
Cool cake in pan on rack.
Carefully cut around pan sides and turn out cake onto serving platter.
FROSTING
Place chopped bittersweet chocolate in medium metal bowl. Set bowl over saucepan of barely simmering water. Stir constantly until chocolate is melted and smooth.
Carefully transfer bowl to work surface. Cool melted chocolate to room temperature, stirring occasionally, 15 to 20 minutes.
Using electric mixer, beat "butter" in large bowl until smooth.
Add powdered sugar, 1 tablespoon juice concentrate, vanilla, and salt; beat until smooth.
Add 2 tablespoons juice concentrate; beat until blended. Beat in agave nectar, then chocolate.
Let stand 10 minutes. Frost top and sides of cake.
The frosting firms up quickly, so spread it over the cake shortly after you make it.
Garnish with fresh berries and kiwi.
Optional: serve with coconut whipped cream on top.
Click here for the Coconut Whipped Cream recipe