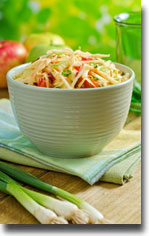 The term coleslaw came from the Dutch term koolsla, meaning cabbage salad. The kool part is the Dutch word for cabbage and the sla part is a Dutch abbreviation of the word salade. In the late seventeenth and early eighteenth centuries, Dutch settlers flooded into New York, so much so that the city was originally called New Amsterdam. They brought with them their recipe for chilled cabbage salad, which today is a mixture of the shredded vegetable with some type of salad dressing, vinegar, sugar and other seasonings.
Number of servings: 6, 280 calories per serving.
Ingredients:
1/2 -1 cup silken tofu, to taste
1/2 -1 cup poppy seeds, to taste
1/4 teaspoon cayenne pepper
1/2 teaspoon garlic powder
1/2 teaspoon dried dill
1/2 teaspoon black pepper
juice of 1/2 lemon
2 Tablespoons Apple Cider Vinegar
1-2 teaspoon Stevia (optional)
3 ribs of celery, shredded
3 carrots, peeled and shredded
1 head of green cabbage, shredded
3 green onions, chopped
Directions:
Prepare the silken tofu in a blender or food processor.
When the tofu is finished, add the cayenne pepper, garlic powder, dill, pepper, lemon juice, apple cider and Stevia to the blender.
Give it one last pulse to combine. In a large bowl, toss the shredded cabbage, carrots, celery, poppy seeds, and chopped green onions to combine.
Stir in the mayonnaise dressing, cover with plastic wrap and chill in the refrigerator until ready to serve.
Garnish with scallions.